Leather:       Browbands are made with quality leather and plush padding on the backside. They are available in black or havanna brown, straight or V shaped.
Crystals :      I only use genuine 6mm Swarovski crystals in a silver  or gold plated setting for my browbands. These high quality crystals have a pointed back that give the crystals a deep depth and and a radiant shine. The metal setting reflects light back thru the crystal, making the crystals shine even in poor lighting conditions. Ive included a photo of a single crystal above to demonstrate this.The difference in quality is huge between the crystals I use and the flat, shallow glue on rhinestones you find on less quality tack.
Construction:
The crystals and beads are strung together and sewn on vertically with jewelery wire, then each swarovski crystal is directly sewn on to the leather for increased stability. All sewing and wire placement is done between the leather and padding, so there is nothing to poke or rub sensitive horse skin. Construction is so critical to a browband and i make these browbands to last. A beautiful browband shouldnt be kept in a padded box at the bottom of your tack trunk, waiting for a random show date. Use it ! Myself and several clients use the browbands every time we ride and they hold up beautifully !
Time frame:
Each browband is made to order by me, so please allow 2-3 weeks for creating and shipping. I will notify and provide a tracking number when the browband is shipped.
Sizing:
For sizing, the general guide is as follows:
Cob-Lg Pony : 15″
Horse: 16″
Oversize: 17″
If you are unsure as to what size your horse needs, please follow these steps:
First remove your current browband from the bridle. Place the bridle on the horse and using a flexible measuring tape or string, measure from one side of the bridle, across the forehead to the other side.  Measure where a browband would normally sit on the horse. If a browband is too small, it will pull the bridle crown piece forward and pinch the ears. So i suggest removing the current browband before measuring so that it doesnt interfere with taking a true measurement.
Purchasing: To purchase one of the browbands featured on this page, select an photo below to order in our Etsy store.  For a custom order please contact us directly. We will be happy to work with you and create a custom design.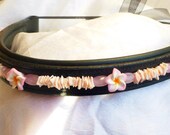 $44.99 USD